Children models

Small & light compact models

versatile outdoor models

heavy duty rugged outdoor models 

versatile elite compact models
You will need a safe way to shower during your recovery. Do not attempt to stand one legged in a shower as you risk slipping and injuring yourself.
Our Knee Scooters are adapted to YOUR situation and needs. You can choose from our Standard Knee Scooters or a Mini Knee Scooter.
Work through the options below to find the best setup to suit you. Feel free to ring us on 0800 395 395 and we will help and guide you.
You have options on your wheels, basket or carry bag and crutches holders. Also cup holders available ($2 per week hire)
Hire conditions
A minimum 2 week hire applies for all hires.
If equipment is returned early, we will refund you for the unused period of your hire
If equipment is required longer than hired period, Physio Health will charge your credit card for the remaining hire period due, on the return of your equipment.
As soon as Physio Health has been contacted to arrange collection, the hire period will end.
To return equipment, ring, text or email Physio Health and we will arrange for our preferred courier company to collect your equipment
Knee Scooter Features
Our knee scooters are light and can be fitted with the pneumatic tyres, enabling them to run easily outside over footpaths and broken ground. Inside it moves easily about the house. A detachable basket (or carry bag) and holders for your crutches enable you to carry what you need around with you as you live your life at home or work.
Features include:

Folding Handlebar – stem folds down for easy access to vehicles
Easy clip on/off basket or "Carry Bag"
Crutch Holders – attached to basket
Cup Holders – please request if required
Supports up to 159 kgs.
Brakes – Rear compression or drum brakes. Parking lock feature for hand free use
Foam Knee Rest – easy height adjustment.
Soft rubber, handlebar grips
*Wheel Options
All Terrain Tyres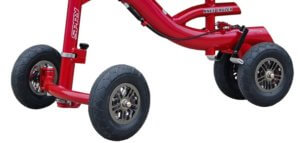 This is our most popular setup. Best for if you live in the countryside, or want to use the knee scooter on grass, over gravel and use it a lot outside. These tyres are very good for going over rough ground. And they are still great for inside the house.
Rubber tyres (non-marking)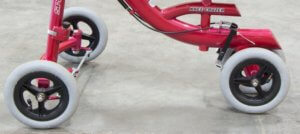 These tyres are good for use inside and outside. Good if you live in an urban environment and want to go for walks along the road, take it to work and is very good inside the house.
Solid Tyres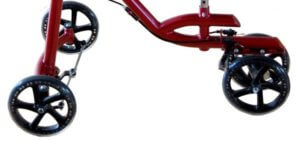 Polyurethane Wheels – soft and durable. Best for if you are going to be using the knee scooter mainly inside. Is easier to push on carpet. Can still use it outside on smooth concrete and drives and in shops (but will be a little bumpier than if using the other options)
Baskets / Bags
You have the choice of either a Basket with Crutches Holders or a Bike "Carry Bag" that clicks on the handlebars. If you choose the Carry Bag, the crutches holders are attached to the Steering Stem (see photos below).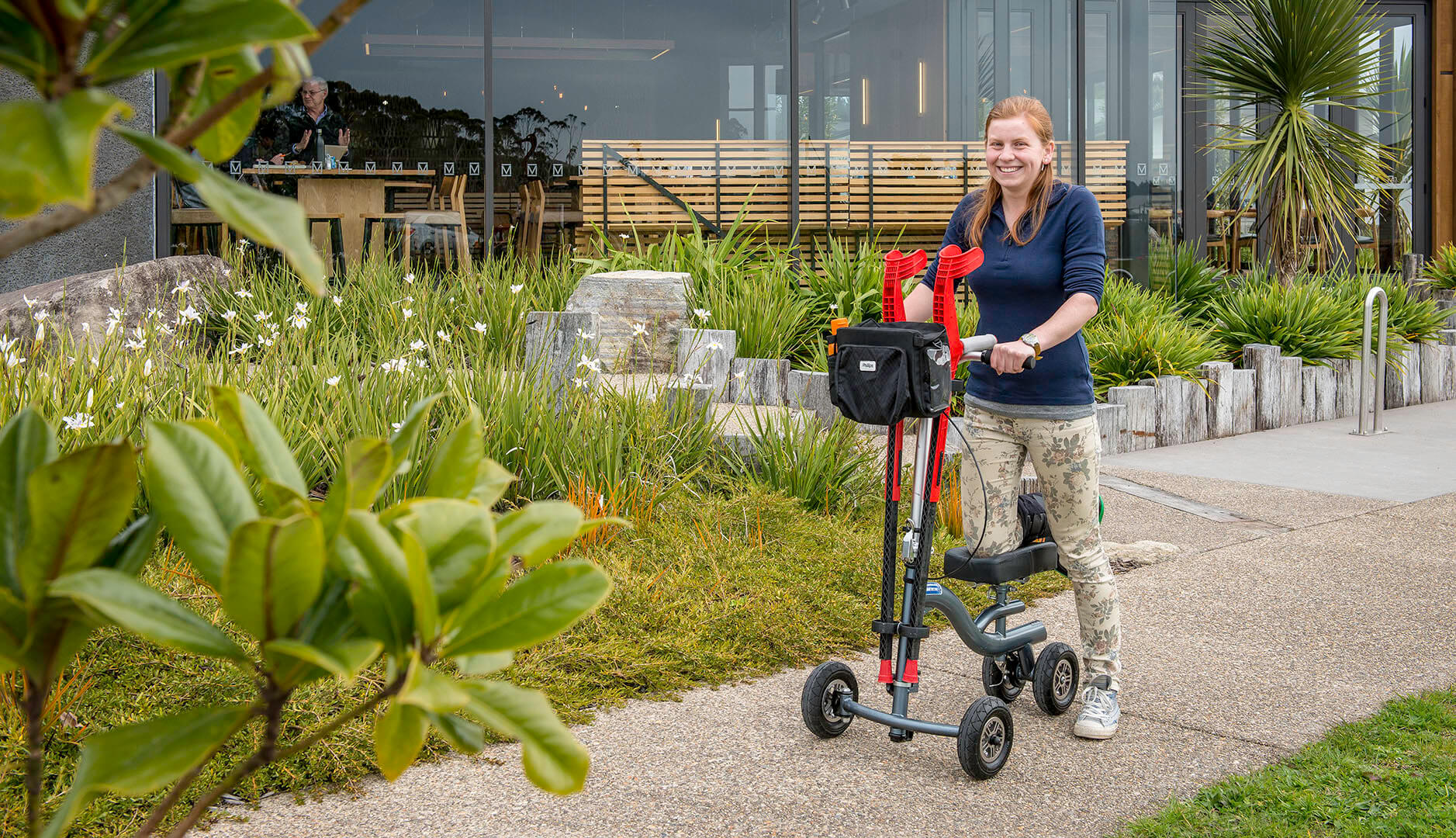 Detachable Basket. Crutches Holders are attached to the side of the basket. The basket is easily removed for when you do not need it.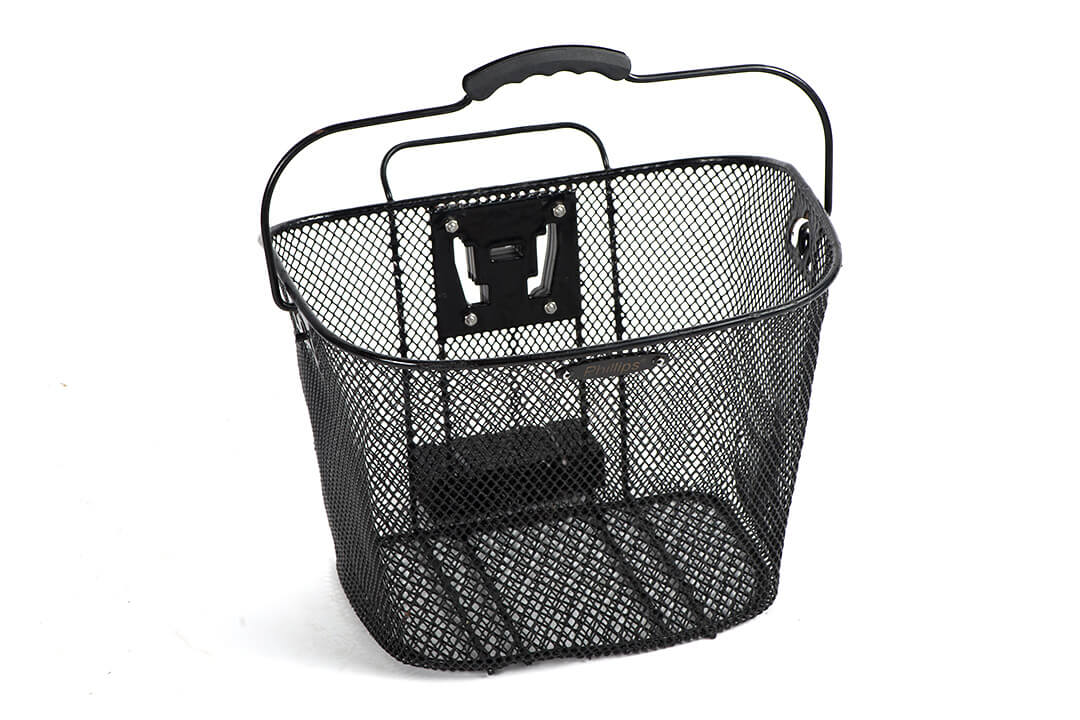 The "Carry Bag" is a Bicycle bag that includes a cup holder, pouch for Mobile phone and a water-resistant zip compartment. The Crutches Holders are attached to the steering stem.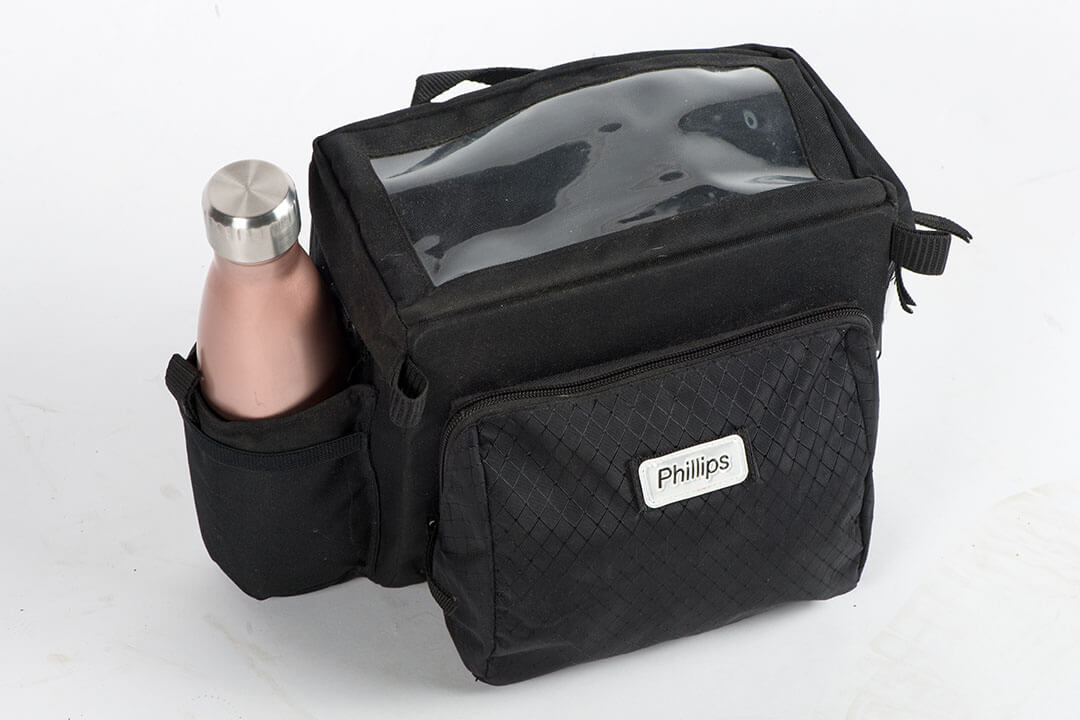 Additional cup holders available.